I taught myself to knit in 2005
I became a knitting addict in 2009 In 2010, I designed and knitted a sock monkey costume For my next challenge… I'm taking custom orders!

One girl controlling
two fast-moving knitting needles
! I love making the best designs possible for delicious looking knits.
If you have something you'd like me to
custom design
and knit for you, give me a shout!
I live and knit in Melbourne, Australia with Tim and our dog Spruce! Previously, you might have spotted me knitting on the subway, in a bar, on a plane or possibly on a glacier. I knit whenever and wherever possible.
Since my school years, I've been custom designing handmade items. (that's a very long time – I am talking elementary school!) I very rarely use patterns. More commonly I write them. I always look at a situation and the tools at hand and think "how can I make this".
In the past, I have been pouring my creative energy into one of a kind costumes for the NYC Village Halloween Parade and, well…. anything that can be knitted! Most recently while we were in Portland, OR, we introduced Portland to the delights of life-sized knitted Sock Monkeys wandering the streets for the first ever
Monkeycon
!!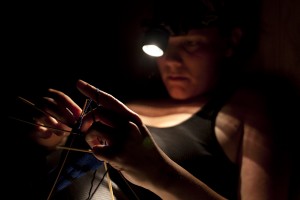 I can deliver to you a fantastic custom design, or a well-written knitting pattern. I have worked with clients in and around Portland, OR and New York, NY and internationally to produce anything from knitting patterns for commercial production, to producing finished articles for use in music videos!

I love a challenge - what do need me to make?